I have negelected this blog, I apologize. I just haven't really gotten any time to cook anything fun lately! School has been disgustingly overwhelming lately and just has not left time for slaving over a stove or oven. Except for last night when I decided instead of working on my urban historiography, I would make baumkuchen. I was originally going to make it for my German nationalism class, but they don't deserve it as much as my urban class did.
I was hoping that making Baumkuchen would put me in the mood to read a lot of books about culture politics in the GDR (I don't think it worked). However, it did challenge my culinary skills. Baukuchen (literally "tree cake" for the layers it makes when cut) is a German holiday cake that is traditionally cooked over an open fire on a turning spit. I do have the ability for an open fire but not a spit, so I went the cheating way and did it under the broiler. Because it is not built over a stick, it does not make such nice tree-esque rings, but it still shows all the layers.
As I found out this is an EXTREMELY time consuming process. I worked on it for 3 hours! But it seemed to be worth it since it was all consumed in class today (possibly aided by the glorious beer provided by another classmate). I think I was less enthusiastic about it than I am about most of my cooking, simply because after three hours the smell was getting to me. It was still tasty anyway.
So this is how it begins:
12 eggs!
Follow the link for more!
Because this recipe required so much attention to detail, I did not get many pictures, but I tried.
Separating that many eggs was interesting! I only messed up on the very last one but still managed to get the yolk out of the whites, which are set aside for later. There is no baking powder or leavening agent in this cake so the highly beaten egg yolks and egg whites provide the slight rise and spongeiness found in the layers.
Meringues! Pretty much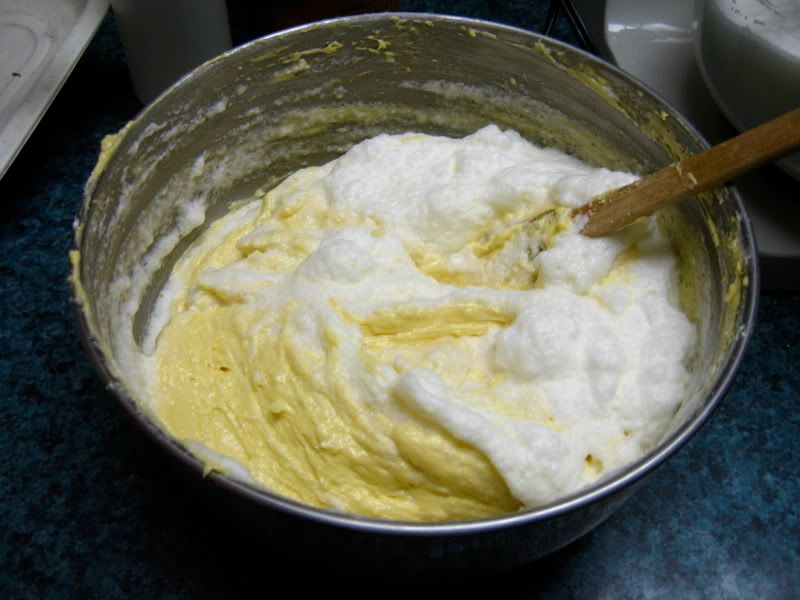 Mixing them in...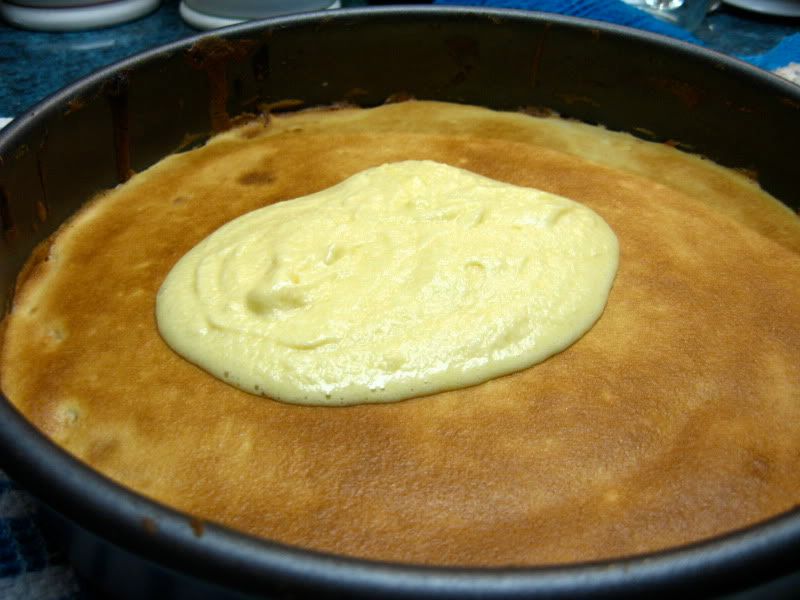 Making the layers
Making the layers was by far the most time consuming, and painful, part. It requires taking 1/3cup of batter and making a very thin layer, putting it under the broiler while turning it for even browning, then taking it out and repeating the process. It probably took about 1.5 hours to do about 18 layers. It also involves having most of your arms in the oven for that whole time. It was toasty.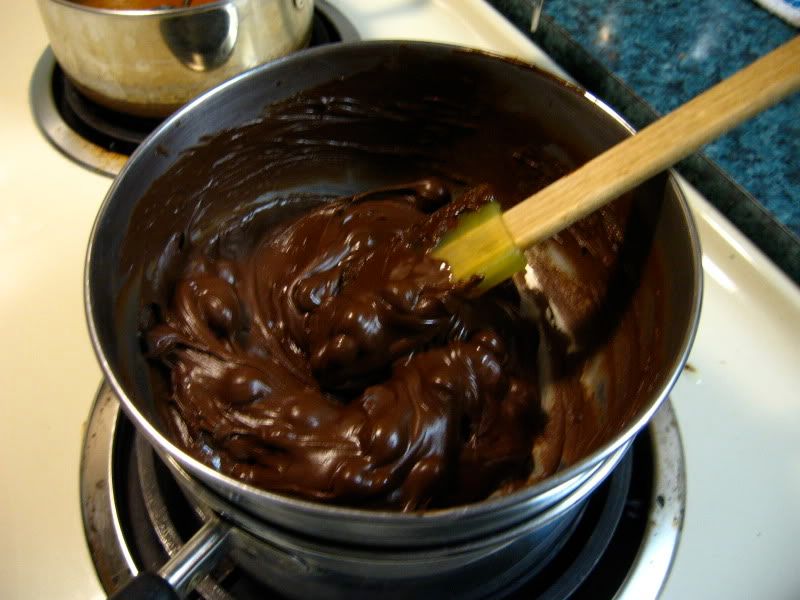 Chocolatey goodness.
Once it was cooled though, it required jam and chocolate. I used my first double boiler! It worked much better than my last try to melt chocolate in the microwave where I just ended up with burnt chocolate chips. This was a vast improvement.
Pour everything on, apricot first, then chocolate. I used too much chocolate and it took a long time to harden, so I suggest using only half a bag.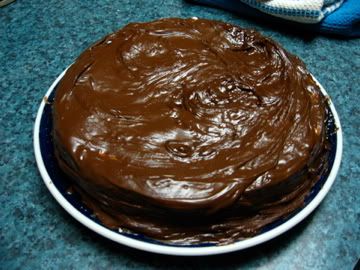 And Done!
Recipe:
I upped everything by a quarter because I wanted to make sure to be able to feed 16 people. Keeping it the original measurements would have easily finished a 12" pan which cuts about 20 1"x2" pieces.
10 egg yolks

3/4 cup unsalted butter, softened
3/4 cup granulated sugar
2 tsp. finely shredded lemon peel
1 TSP. VANILLA extract

1 cup all-purpose flour
1/2 cup cornstarch
1/4 tsp. salt

10 egg whites
1/4 cup granulated sugar

One jar apricot jam
1/2 bag semi sweet chocolate chips

In small mixer bowl beat egg yolks at high speed on electric mixer till thick and lemon colored, about 10 minutes; set aside. In large mixer bowl beat butter till light and fluffy; gradually beat in the3/4 cup sugar. Add lemon peel and vanilla. Beat in egg yolk mixture. In large mixing bowl stir together flour, cornstarch, and salt; stir in butter-egg mixture. Wash beaters and the large mixing bowl thoroughly. In large mixing bowl beat egg whites to soft peaks (tips curl over); gradually add the 1/4 cup sugar, beating to stiff peaks (tips stand straight). Fold into egg yolk batter.
Grease an 8-inch springform pan. Spread 1/3 cup of the batter evenly in the bottom of the pan. Place under broiler 5 inches from heat and broil about 1 minute or till top is light brown (it may be necessary to give pan a half turn for even browning). Do not overbrown. Remove from broiler. Spread another 1/3 cup batter on top of the first layer. Broil as before, turning as necessary, for even browness. Repeat spreading batter and broiling to make 15 to 17 layers in all. Cool in pan 10 minutes. Loosen cake and remove sides of pan; cool completely.
Melt apricot jam over low heat. While that melts, start melting chocolate in either microwave or double boiler. I prefer double boiler because it allows for more control. Melt your chocolate, adding milk or oil if you feel it needs to be thinner.
Once jam is melted, spread a layer over the top and sides of cake. Allow to cook a little. Cover with chocolate and 'frost' with chocolate. Allow chocolate to harden.